Clearly, Asian food is on people's minds these days. That or we have a lot of readers in the region who want to support their homeland's culinary prowess. Asia is such a vast area with many different influences, flavors and cultures, that it's hard to pick out typical Asian dishes. Fortunately there are Asian dishes that are popular in more than one country in Asia and among Westerners alike. Let's have a look at top incredible dishes in Asia.
Laksa
Laksa is a spicy noodle soup, which is claimed to be invented by Singaporeans, although it's more likely to be derived from Chinese/Malay culture. The origin of the name Laksa is unknown, but it's now widely popular not only in Malaysia and Singapore, but as far as Australia and beyond. If you tried Laksa, you would know why, as it as mainly an explosion for your taste senses, mixing sweet (coconut) tastes with sour (lemon grass or citrus) influences with more standard fare (thick noodles, egg, tofu). Sometimes Laksa is done more watery like a soup, while some prefer it as thick as possible, with as few liquids as possible. I'm sure Singaporeans can write whole essays about the right essences of Laksa and I hope for plenty of comments describing the proper and one-and-only ingredients.
Most Laksa lovers agree on the following main ingredients: thick noodles, coconut-based curry sauce/soup, tofu, fish sticks, shrimp and bean sprouts. Sometimes the seafood elements are substituted with chicken or hard-boiled eggs are added, although all ingredients can wildly vary. There are Laksa wars out there, where people discuss what are the right ingredients and what not. Singaporeans are famous for driving for 20 Dollar from one end of their country to the other to try out the best 3 Dollar Laksa over there. Just logic among food lovers, isn't it?
Pad Thai  
Though it might be one of the most famous dishes in the world, good Pad Thai can be hard to find. If you want to enjoy this noodle, peanut and tofu dish at its best, get out of the restaurants and away from the tourist zones. The small markets hidden down narrow streets offer the best variations.
Dim sum
Dim sum is a Chinese tradition that involves a stream of small portions of steamed food or dumplings served in steamer baskets or on small plates. Usually, the food is cooked in dough, though there are many types of dim sum. The steamed dishes are brought over to your table and shared Tapas style. Dim Sum can be found across Asia in areas where Chinese cuisine is prominent, and most places that do dim sum serve only that.
They brought plenty of their favorites from back home and amalgamated them with local dishes. One of those favorites is Dim Sum, wish are light, but hard-to-describe delicacies, popular in all Asian countries from the Philippines, to Vietnam, Laos or Malaysia and Indonesia. Oh yeah, of course in Singapore with its 60% Chinese population as well.
Mi Goreng  
Ubiquitous in Indonesia, Mi Goreng is sold everywhere from street stalls to high-end restaurants. Similar to Chinese Chow Main, it's a noodle dish made with fried noodles, garlic, onion, chili, vegetables, tomatoes, eggs and your choice of meat. Because of the sauce used, Mi Goreng is very sweet. Though it is typically a noodle dish, you can get a rice version as well, which I actually prefer.
Sushi
Sushi doesn't need any introduction. It's popular world-wide and there is no exception to that in Asia. Here it's considered a higher-class delicacy and mainly eaten in posh restaurants, although you can buy ready-made Sushi in regional supermarkets like Carrefour in Singapore, Indonesia or Tesco in Thailand.
More and more Sushi franchises (Best Denki, Sakae Sushi, Go Sushi) are mushrooming all over Asia as well, bringing Sushi to the masses as well. Sushi is so much more than just raw fish and creating/forming Sushi rolls is considered a science by many. Although it actually just takes the right kind of rice, seaweed wrappers and soy sauce.
The other ingredients like sweet, pickled ginger and Wasabi (the green, tasty paste similar to horse radish) are sold almost everywhere. However you like your Sushi, self-made at home, delivered to your door step or eaten in a fancy restaurant – don't forget to drink Ocha (green tea) with your Sushi.
Satay
Satay is the undisputed King or Queen of Asian Foods. Of course the spelling is different from country to county, be it sate, satay, satey, sati or whatever – it's basically meat on a stick roasted over charcoal or open fire. Available everywhere from Singapore to the Philippines, Vietnam to Papua! While in Muslim countries Indonesia or Malaysia it's mainly chicken or beef sticks, Thailand is very famous for it's organ sate, being it liver, heart or stomach of pigs or chicken. You can also find frogs or even bug meat on a stick, fried in oil or 'au naturel', again especially in Thailand, Cambodia or Laos.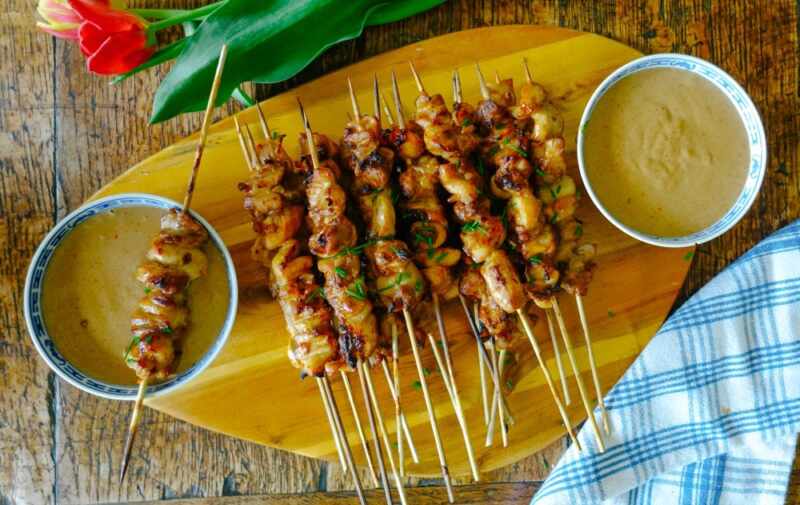 Satay usually comes with various dips, peanut sauce is the most popular and mainly you have sticky rice or lontong with it. Most of the time you will have chopped onions, cucumber or other veggies as well. Seafood satay is popular as well, so yeah – fish, calamari, prawns or other sea creatures come nicely fried on a stick as well, a cheap and delicious way of filling your stomach on the go, or a small snack for in between.
The food is delicious, cheap, flavorful- in one word: amazing. The next time you are traversing the lands of Asia, try out these amazing foods. What is your favorite Asian dish? Is it among those 6  incredible dishes or something completely different? The next time you're traveling through Asia, make sure to sample these delicious dishes. Often the signature dish of their country, they represent some of the best their countries have to offer. But more importantly, they'll leave your stomach full with some of the best tasting food you have ever had.
Comments
comments